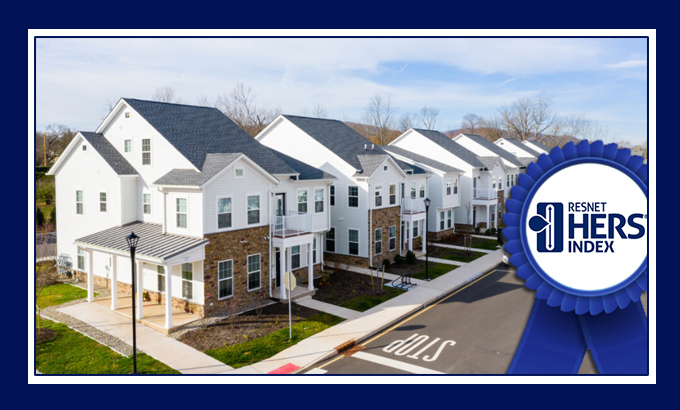 Collingswood, NJ –March 22, 2021 – Ingerman, a leading developer, builder, and manager of multifamily housing throughout the Mid-Atlantic region, has been recognized by the Residential Energy Services Network (RESNET) as one of the Builders Leading the Path to Net Zero Energy Homes. Its 72-unit apartment community, The Willows at Whitehouse Station, received an award it Low HERS Index Score.
The Home Energy Rating System (HERS) Index is a nationally recognized system for inspecting and calculating a home's energy performance. The lower the HERS Index Score, the more energy efficient the home. Households can save an average of $750 per year in utility costs, creating economic development, and reduce an average of 4.39 tons of carbon emissions annually, which helps the environment.
"RESNET is proud to recognize the homebuilders that are leading the path to net zero energy homes. Not only are these homes with low HERS Index Scores are more comfortable for owners of the homes, they also foster local economic development and reduce carbon emissions," stated Steve Baden, RESNET Executive Director.
RESNET's mission is to make the energy use of all homes transparent by driving residential sector energy use toward net zero. In 2020, there were 299,755 homes rated by HERS, and The Willows at Whitehouse Station ranked 12th lowest overall. The average HERS Index Score of those homes was 58. When RESNET reviewed the records of builders who built at least 50 homes last year, they found that Whitehouse Station attained the lowest average HERS Index Score of 48.1 for homes built in 2020.
"Ingerman is proud to have its new Whitehouse Station community recognized as a leader in energy efficient and sustainable building. We are grateful to Geoff Long, the developer for this project, and the construction team lead by Nicole Noon and John Wolf, for their efforts to build environmentally conscious housing that reduces our carbon footprint and makes renting that much more affordable for our residents," said Stephanie Eaves, Marketing and Leasing Director.
The HERS Index Score plays an increasingly important role in the housing industry, used by builders, utilities, government agencies, and real estate professionals to measure their homes efficiency, which is rated by certified RESNET Home Energy Professionals. Over 3 million homes were rated with a HERS Index Score, resulting in savings of over $8 billion in homeowner's energy costs. For more information, you can visit www.hersindex.com
###
About Ingerman
Ingerman is a leading developer, builder, and manager of award-winning multifamily communities throughout the Mid-Atlantic region. Since its inception, the company has been responsible for the development of more than 100 sites representing 9,000 units with total development costs exceeding $1.5 billion. Ingerman was founded on a guiding principle: to bring together a highly talented and motivated group of real estate professionals to create lasting, quality residential communities that are strategically financed and managed through persistent attention to detail. Today, that mission continues to drive our unwavering focus on delivering high-quality housing and superior services to all of our stakeholders — investors, community partners, and residents.