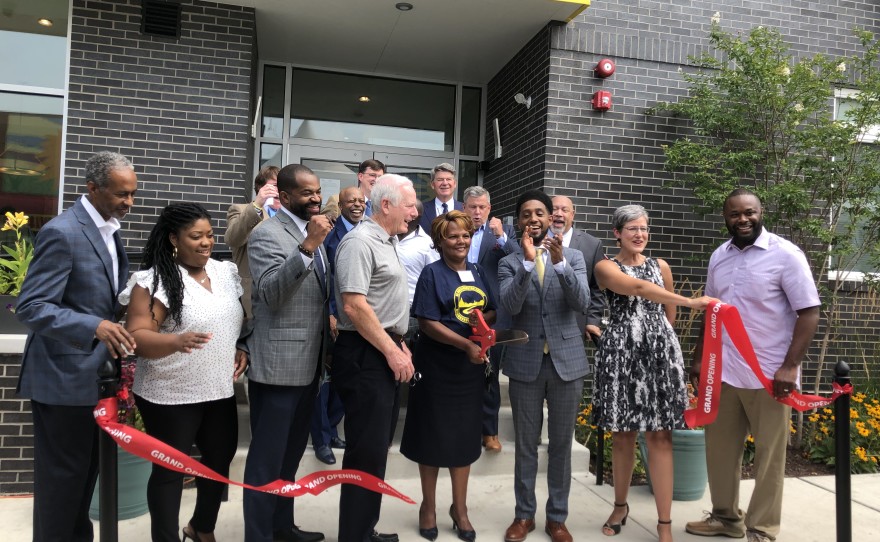 Baltimore, MD – July 9, 2021 – Baltimore City Mayor Brandon M. Scott and local officials joined Ingerman and ReBUILD Metro to celebrate the grand opening of Greenmount & Chase, an affordable rental community of 60 apartments for families in Johnston Square. The $16.6 million investment signifies the first major project to be completed as part of the $160 million transformation of Johnston Square.
"Baltimore thrives when neighborhoods see investments like Greenmount & Chase that mutually benefit new and established residents," said Brandon M. Scott, Mayor of Baltimore City. "Access to affordable housing is critical for communities like Johnston Square, and my administration is committed to ensuring every neighborhood has the necessary tools to flourish."
Greenmount & Chase includes 24 one-bedroom apartments, 27 two-bedroom apartments and nine three-bedroom apartments and features a host of amenities such as a resident lounge, game room, playground, management and supportive services offices, storage facilities and a fitness room. Kitchens are equipped with energy-efficient appliances, islands or breakfast bars, washers and dryers, oversized double-paned windows and vinyl plank and tile flooring. With its proximity to nearby grocery stores, schools, parks and several local bus routes, residents will have easy access to jobs, education, and services throughout Baltimore.
"Greenmount & Chase is providing people with great affordable homes, and it is a huge step forward in the revitalization of Johnston Square and East Baltimore," said Sean Closkey, President of ReBUILD Metro. "With leadership from our City and State and support from hundreds of residents in Johnston Square and across Baltimore, our partnership remains committed to transforming Johnston Square into a place where every home is occupied and where both new and longtime residents have the opportunities and the comforts they deserve."
"Ingerman is proud to be part of the revitalization efforts in Johnston Square. We could not have reached this important milestone without the community's support and our partnership with ReBUILD Metro. We are thrilled with the reception and feedback from the new residents, the community and our partners who share our vision for rebuilding this neighborhood," said David Holden, Development Principal at Ingerman.
Greenmount & Chase is supported by the City of Baltimore and Maryland DHCD. Financing sources for this project include Project C.O.R.E. (Creating Opportunities for Renewal and Enterprise), Rental Housing Works, National Housing Trust Fund, and 4% Low Income Housing Tax Credits administered by Maryland DHCD with the credits syndicated by the Richman Group, as well as City of Baltimore HOME funds, a seller's note from the City of Baltimore, and tax-exempt back-to-back financing via Citibank and Freddie Mac. The Harry and Jeanette Weinberg Foundation is also providing generous financial support. Project-based rental assistance is being provided by Maryland DHCD (Section 811) and the Housing Authority of Baltimore City.
"The State of Maryland is proud to be a partner in the development of Greenmount & Chase and the ongoing revitalization of Johnston Square," said Maryland Department of Housing and Community Development (DHCD) Secretary Kenneth C. Holt. "It is an incredible example of how Governor Hogan's Project C.O.R.E. initiative is driving unprecedented public, private, and nonprofit investment and changing communities in Baltimore for the better."
"This building is a great addition to our neighborhood and our main street, and it is only the beginning of the new life we will be bringing to Johnston Square in the next few years," said Regina Hammond, Executive Director of the Rebuild Johnston Square Neighborhood Organization. "We are happy to welcome the new residents of Greenmount & Chase to our blossoming community, and we can promise them that we are hard at work to ensure it is a place they will want to stay for years to come."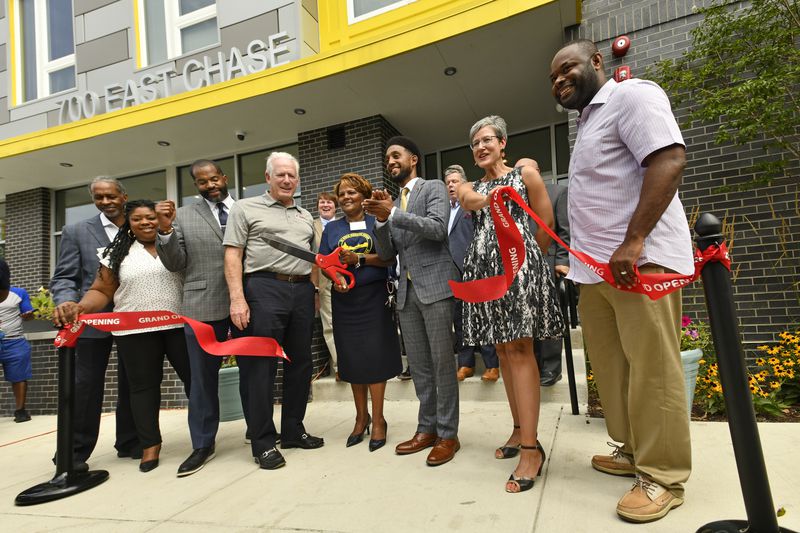 ***
About Ingerman
For more than two decades, Ingerman has been developing, building and managing award-winning multi-family communities throughout the Mid-Atlantic region. Founded in 1988, the Company has developed 95 communities consisting of more than 7,000 residential units with total development costs in excess of $1.1 billion. The Company's seasoned team of real estate and construction professionals utilizes state-of-the-art architectural design, cutting-edge, environmentally conscious construction and an array of modern amenities in the development of each community. Through a commitment to responsible development practices, Ingerman works to enhance the sustainability of its communities with several green initiatives. www.ingerman.com
About ReBUILD Metro
ReBUILD Metro's mission is to restore the history and prosperity of neighborhoods by rebuilding homes and fostering enduring community relationships, with a focus on long-distressed neighborhoods in East Baltimore. ReBUILD acquires and redevelops clusters of abandoned single-family properties, partners on affordable multifamily housing developments, rebuilds small-scale storefronts, and consolidates vacant lots into attractive and functional open spaces. Since forming in 2006, ReBUILD has completed over 800 units of affordable housing across three states. These homes include over 200 formerly abandoned single-family homes in East Baltimore, where it has attracted over $114 million in reinvestment and catalyzed the transition of two communities from generational distress towards stabilization and self-sustained growth. www.rebuildmetro.com.