Owning a home has long been the hallmark of the "American Dream". However, for many millennials, homeownership is no longer the cornerstone of that dream. Today, more and more members of this generation are shifting away from homeownership in favor of renting.
Millennials, the generation born between 1981 and 1996, are the largest generation in U.S. history, exceeding Baby Boomers. Because of their size, they have a considerable influence on the multifamily housing industry. Today, they are the single largest adult renter group, representing 31% of all renters.

Several factors have encouraged millennials to shift away from purchasing a home in favor of renting, which is provided in the infographic below.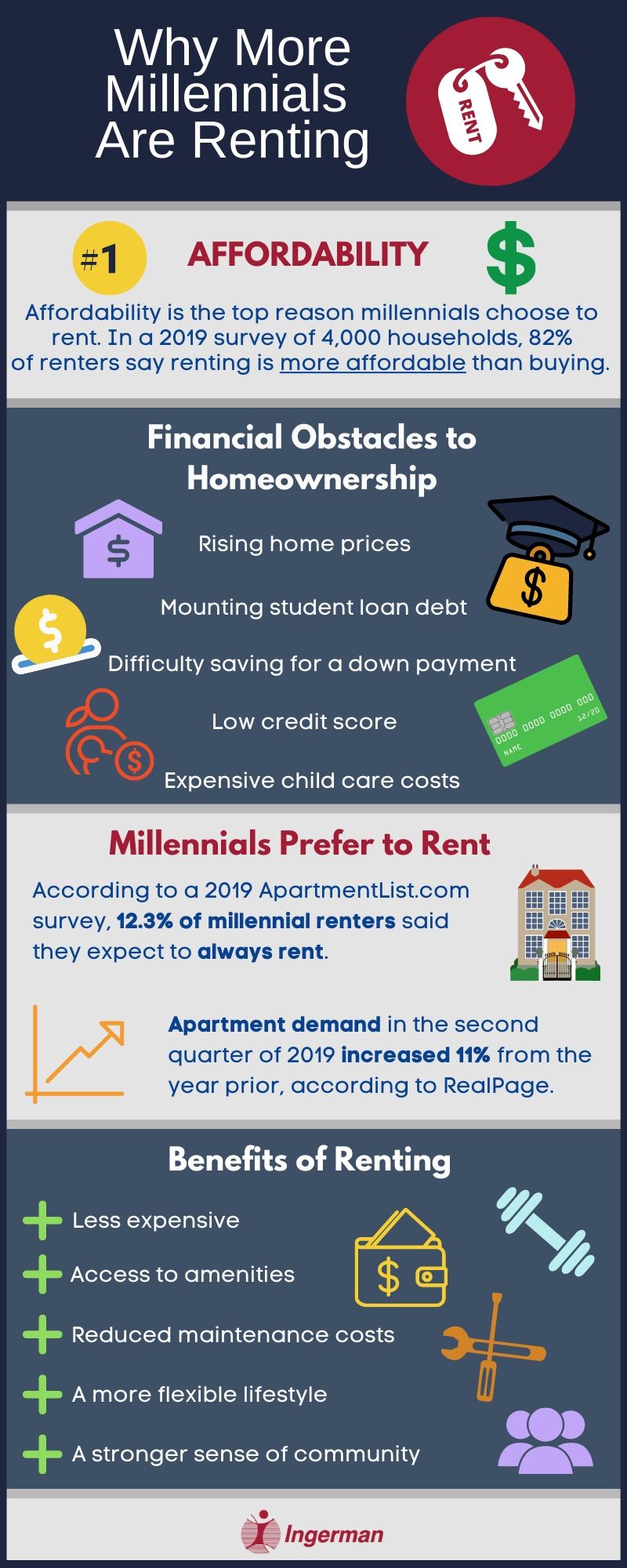 What Millennials Want in Apartment Rentals
To attract the millennial demographic, multifamily developers are changing apartment designs and upping the ante on amenities and features to evolve and adapt to the shift in demand that comes with a new era of renters. As millennials start families of their own, they are searching for more spacious living options. Multifamily housing units offer one, two, and three-bedroom options with open concept floor plans to allow for more space. Millennials place a high value on cutting edge technology and have shown a preference for apartments with state-of-the-art amenities and high-end finishes like stainless steel appliances and granite countertops.
Features like a community lounge, business center, and gym also appeal to this generation. A lounge allows residents to host events and be more social with their peers. While this applies more in a pre-coronavirus world, the behavior trends show millennials favor a living environment with places to hang out like clubhouses with coffee bars, game rooms, and tech lounges. An in-house fitness center is a convenient and more affordable alternative to a gym membership, and many apartment complexes affix their gyms with the latest technology and offer digital classes that larger chain gyms might be slower to adopt.

Millennials are a mobile generation. They like to have flexibility where they live and work, and tend to stay in the same place less than the generations before them. Renting lends itself to this lifestyle. Millennials want amenities that cater to their way of life and many multifamily communities offer features to meet these expectations. Amenities like tech lounges and business centers have become increasingly popular as more and more companies move to remote offices and millennials embrace mobile work environments.

Millennials also desire apartments located within reasonable distance to work and close to entertainment like shopping centers and restaurants. Taking into account that a vast majority of millennials are pet-owners, many multifamily housing communities accept pets and offer on-premise pet services like wash stations and play areas. Moreover, multifamily properties offer a low-maintenance lifestyle with many home maintenance tasks falling on the responsibility of the property owner, such as appliance repair and yard work. This relieves residents of some burdens they would otherwise face as homeowners.
Recognizing the growing number of millennial apartment renters, Ingerman has incorporated many of these amenities and features into our communities. Our apartments offer full appliance packages with high-end finishes and a variety of floorplan layouts are available to suit your preferences. Ingerman communities offer lounges, business centers, fitness centers, game rooms, and increasingly more amenities tailored to meet the needs of their residents.
Find your perfect home with Ingerman today. You can conveniently browse apartments available for rent on our website. You can filter your search by location and learn about the community and amenities and features offered, view photos, take a virtual tour, and more.
###
About Ingerman

Ingerman is a leading developer, builder and manager of award-winning multifamily communities throughout the Mid-Atlantic region. Since its inception, the company has been responsible for the development of more than 100 sites representing 9,000 units with total development costs exceeding $1.5 billion. Ingerman was founded on a guiding principle: to bring together a highly talented and motivated group of real estate professionals to create lasting, quality residential communities that are strategically financed and managed through persistent attention to detail. Today, that mission continues to drive our unwavering focus on delivering high-quality housing and superior services to all of our stakeholders — investors, community partners, and residents.