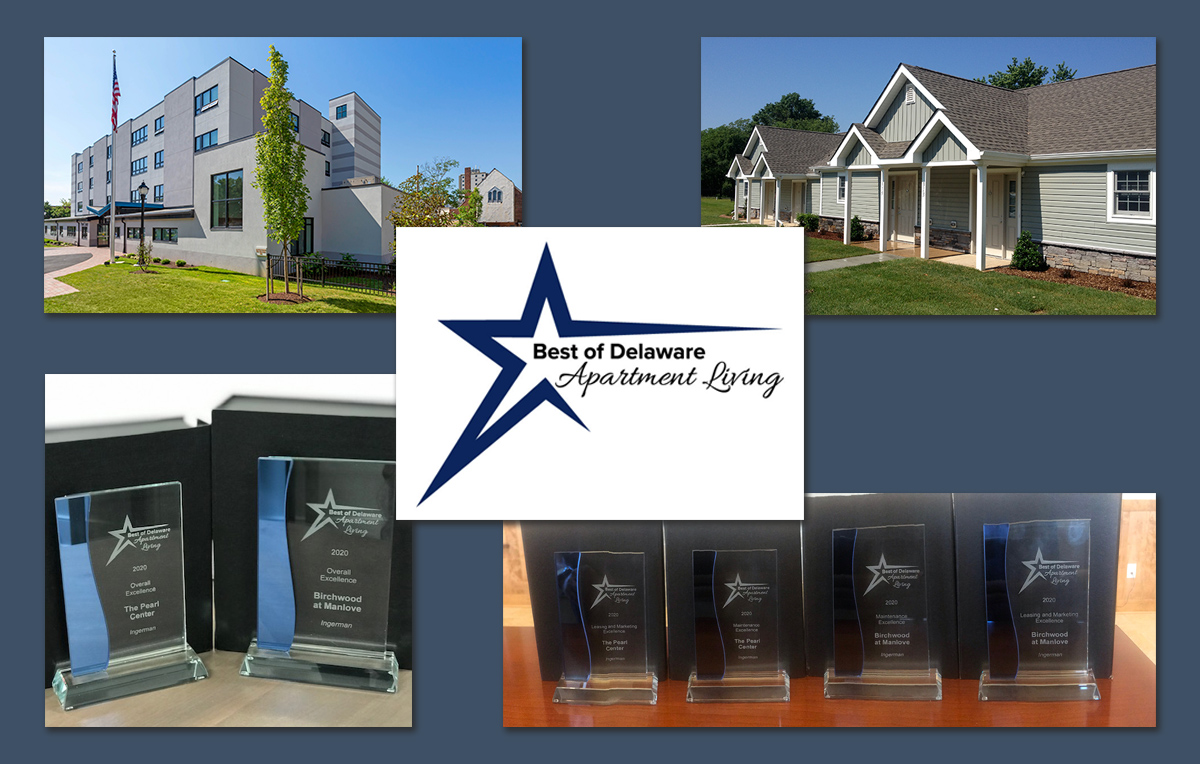 Collingswood, NJ – November 20, 2020 – Ingerman, a leading developer, builder and manager of multifamily housing throughout the Mid-Atlantic region, had two communities honored by the Delaware Apartment Association (DAA) at the 2020 Best of Delaware Apartment Living Awards. Every year the DAA celebrates the best communities throughout the state and two of our Wilmington, Delaware based communities received multiple awards.
Birchwood at Manlove Manor took home first place for Leasing & Marketing Excellence, Maintenance Excellence, and Overall Excellence in affordable housing. The 40-unit community offers renovated one-bedroom apartments and caters to seniors 62 and over.
The Pearl Center was also recognized with second place awards in categories of Leasing & Marketing, Maintenance, and Overall Excellence. The Pearl Center provides affordable apartments to homeless veterans and low-to-moderate income households. This four-story building in downtown Wilmington completed construction in 2019 and consists of 51 new studio, one and two-bedroom apartments.
"The DAA recognizes excellence within the multifamily housing industry and we're proud to see the efforts of our team members at these communities be acknowledged by our peers and industry partners. These awards speak to the achievements and management caliber of our communities and their dedicated teams," said Stephanie Eaves, Ingerman's Director of Leasing and Marketing.
The DAA is a non-profit trade organization formed in 1997 representing multifamily housing owners, managers, and developers. Their mission is to exclusively serve the multifamily housing industry providing educational programs for community managers and employees, and to disseminate necessary information for its members to continuously be informed about issues critical to the industry. Once a year the organization celebrates the best of the best in the multi-family housing industry throughout the entire state at the Best of Delaware Apartment Living annual awards celebration.
###
About Ingerman
Ingerman is a leading developer, builder and manager of award-winning multifamily communities throughout the Mid-Atlantic region. Since its inception, the company has been responsible for the development of more than 100 sites representing 9,000 units with total development costs exceeding $1.5 billion. Ingerman was founded on a guiding principal: to bring together a highly talented and motivated group of real estate professionals to create lasting, quality residential communities that are strategically financed and managed through persistent attention to detail. Today, that mission continues to drive our unwavering focus on delivering high-quality housing and superior services to all of our stakeholders — investors, community partners, and residents.