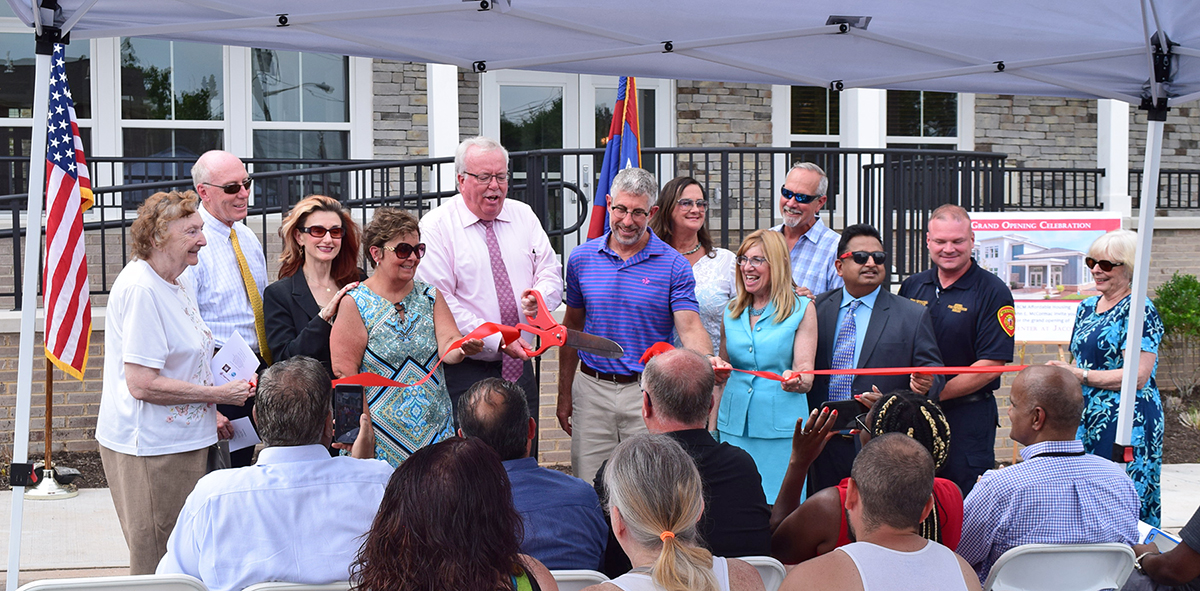 Woodbridge, NJ – July 11, 2019 – Mayor John E. McCormac joined Ingerman, BCM Affordable Housing, Woodbridge Housing Authority, residents and local officials to celebrate the grand opening of The Community Center at Jacobs Landing, located in Woodbridge, New Jersey.
The ceremony marks the opening of The Community Center, a large two-story complex located between Phases One and Two of the new Jacobs Landing affordable housing community on Bunns Lane. The center houses offices for Ingerman Management and The Housing Authority of Woodbridge Township, a fitness center, and fully-furnished community lounge with a kitchen for events and resident use. There's also a playground outside.
Formerly the site of Woodbridge Gardens, a 64 year old public housing community, Jacobs Landing is a three phase revitalization project over 17 years in the making. Phase One was completed in 2018 and Phase Two is midway through construction with residents moving in this summer, and Phase Three is slated to begin in fall of this year. Each phase contains a mix of new one, two, three and four bedroom rental homes to provide high quality affordable housing to the residents of Woodbridge Township. The Community Center is located in the heart of the development and serves not only as a headquarters for the Woodbridge Housing Authority, but also a multi-use entertainment, recreation and event space for the community's residents.
"Today's announcement represents yet another milestone toward achieving our goal of ensuring that Woodbridge Township residents have access to quality residential options that allow them to affordably continue to live in the Woodbridge community," Mayor John E. McCormac said. "With the Grand Opening of The Community Center at Jacobs Landing, along with the occupancy of the residential apartments in the new buildings constructed as part of Phase 1, we are fast approaching the completion and transformation of the 64 year-old Woodbridge Garden Apartments on Bunns Lane into a vibrant new community which will ultimately include 204 units of affordable residential housing. It is important to note that no taxpayer funds have been used to construct Jacob's Landing – the entire project is funded through federal and state grants, housing development programs and private investment."
***
About Ingerman
Ingerman is a leading developer, builder and manager of award-winning multifamily communities throughout the Mid-Atlantic region. Since its inception, the company has been responsible for the development of more than 100 sites representing 8,400 units with total development costs exceeding $1.4 billion. Ingerman was founded on a guiding principal: to bring together a highly talented and motivated group of real estate professionals to create lasting, quality residential communities that are strategically financed and managed through persistent attention to detail. Today, that mission continues to drive our unwavering focus on delivering high-quality housing and superior services to all of our stakeholders — investors, community partners, and residents.