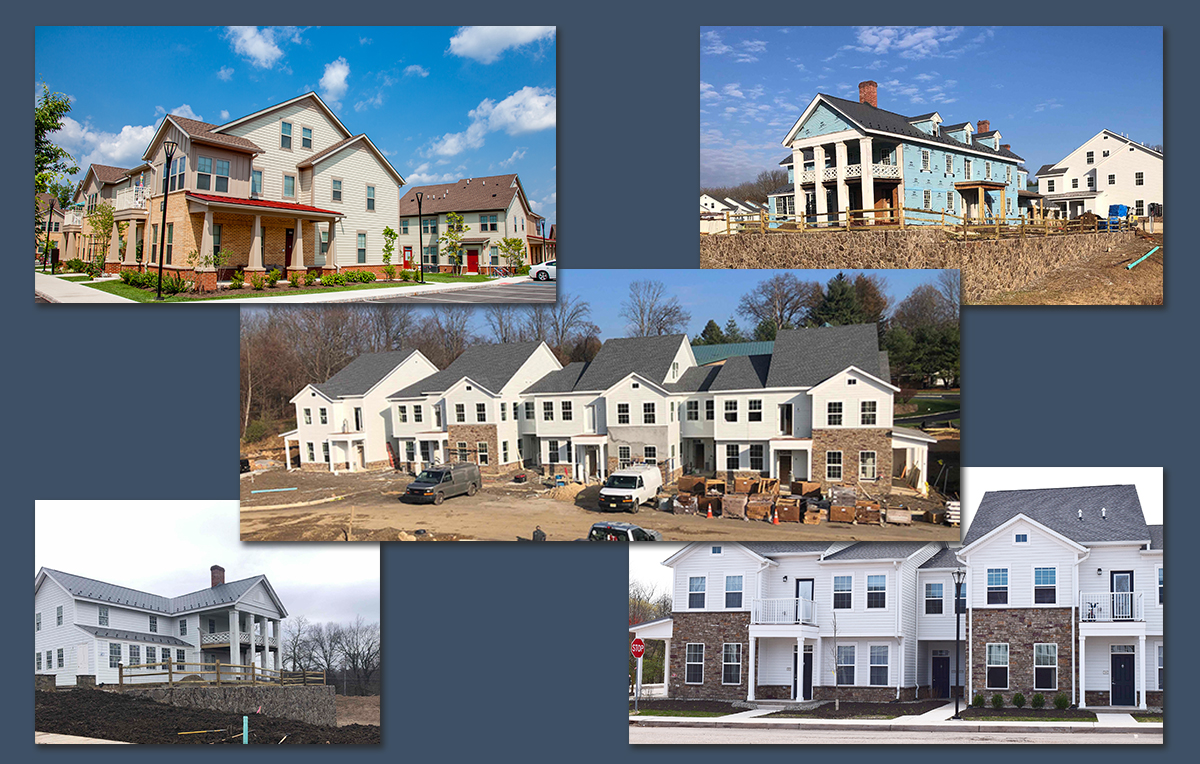 Hunterdon County, NJ – May 11, 2020 – With as many as five planned and currently operating communities, Ingerman, a leading developer, builder and manager of multifamily housing throughout the Mid-Atlantic region, is playing an important role in Hunterdon County's transition from rural countryside to booming suburbs as both New York City and Philadelphia commuters migrate to the region.
Hunterdon County is a far stretch from the urban areas stereotypically associated with New Jersey. Bordered by the Delaware River and considered part of the Delaware Valley, Hunterdon County boasts relaxing scenic rural landscapes, over 350 preserved farms, and is a premier destination for hunting and fishing. While this may sound like a slower-paced lifestyle, Hunterdon County's towns are quite the opposite. Featuring a plethora of great shopping, restaurants, and recreation, while also being conveniently accessible to major highways and transit options, many residents consider this lifestyle the best of both worlds.
Commuting from Hunterdon County is notably efficient as well. The Raritan Valley Line via New Jersey Transit runs directly to New York Penn Station during peak hours and the Norfolk Southern Railway's Lehigh Line runs through Hunterdon County into Pennsylvania. In addition, The LINK is a Hunterdon County funded shuttle which operates a demand-response service across the county, as well as fixed-route service throughout Flemington.
Flemington
In 2016 Ingerman broke ground on their first Hunterdon County community, The Willows at Flemington Junction, an 84-unit affordable family rental complex in Raritan Township. Located just a few blocks from dozens of big-box stores, this project received overwhelming positive reception from visitors during its lease-up and set a new standard for how people envision affordable housing. All the apartments have energy-efficient appliances and finishes, including in-unit washers and dryers, dishwashers, garbage disposals, gas heating, balconies or patios, private entryways and central air conditioning.
The community building offers a furnished resident lounge with warming kitchen, fitness center, on-site management offices, and a social service assistance. Additionally, outdoor features include a playground and sitting areas, walking paths, community garden, transit stop, and off-street parking for all residents.
Whitehouse Station & Annandale
Ingerman doubled down on their success with Flemington Junction and, on the heels of the positive impact they've had in Flemington, are now operating two brand new sister properties with The Willows at Whitehouse Station and The Willows at Annandale Village. Both sites are within a 10-minute drive from one-another, yet have their own distinct character and township culture.
The Willows at Annandale Village is a 66-unit affordable family project located on the intersection of Highway 78 and Route 31 in Clinton Township. With top public-school ratings and a one-hour drive to New York City or a direct train line via New Jersey Transit, Annandale is becoming an increasingly desirable location and demand for housing has never been higher for the area. The Annandale project's focal point is its gut rehabilitation of a 1700's historical building which is being converted to the community space and management office, while preserving much of its original features and character.
A quaint town with many appealing attributes, Whitehouse Station in Readington Township has seen lots of economic success and flourished over the last few years. At over $130,000 per family, the mean household income is more than double the nation average. Affordability has become difficult and, as such, the township has agreed to increase its portfolio of affordable housing for its residents. Ingerman is amongst the first to fill this need and is now in lease-up for The Willows at Whitehouse Station, a 72-unit affordable family community located in the heart of the town, a quick 2-minute walk to storefronts and the Whitehouse Station train line. The location also offers convenient access to Route 22 which provides a quick gateway to surrounding parts of Hunterdon.
Both of these brand new communities are currently leasing up, click here for more information.
Junction Road & Clinton
The future looks bright for Ingerman's continued foray into Hunterdon County. Currently, the company is in early development stages for two more communities. One will be an additional affordable family rental community off Junction Road, adjacent to The Willows at Flemington Junction. With plans to begin construction this year, the project is proposed to have 100 units, mix of 1, 2 and 3 bedroom rental homes across nine buildings.
Additionally, Ingerman is also looking to close on a 110-unit luxury rental property with a proposed outdoor pool and suite of amenities in Clinton Township's booming downtown. Details are still in development as anticipation over this project builds.
Ingerman is very excited to continue our growth in the region and create a lasting impact. We are thankful to the townships and all involved in embracing our vision of high-quality affordable housing and helping us make this a reality in their communities. Visit livewillows.com to see new, existing and upcoming communities.
###
About Ingerman
Ingerman is a leading developer, builder and manager of award-winning multifamily communities throughout the Mid-Atlantic region. Since its inception, the company has been responsible for the development of more than 100 sites representing 9,000 units with total development costs exceeding $1.5 billion. Ingerman was founded on a guiding principal: to bring together a highly talented and motivated group of real estate professionals to create lasting, quality residential communities that are strategically financed and managed through persistent attention to detail. Today, that mission continues to drive our unwavering focus on delivering high-quality housing and superior services to all of our stakeholders — investors, community partners, and residents.