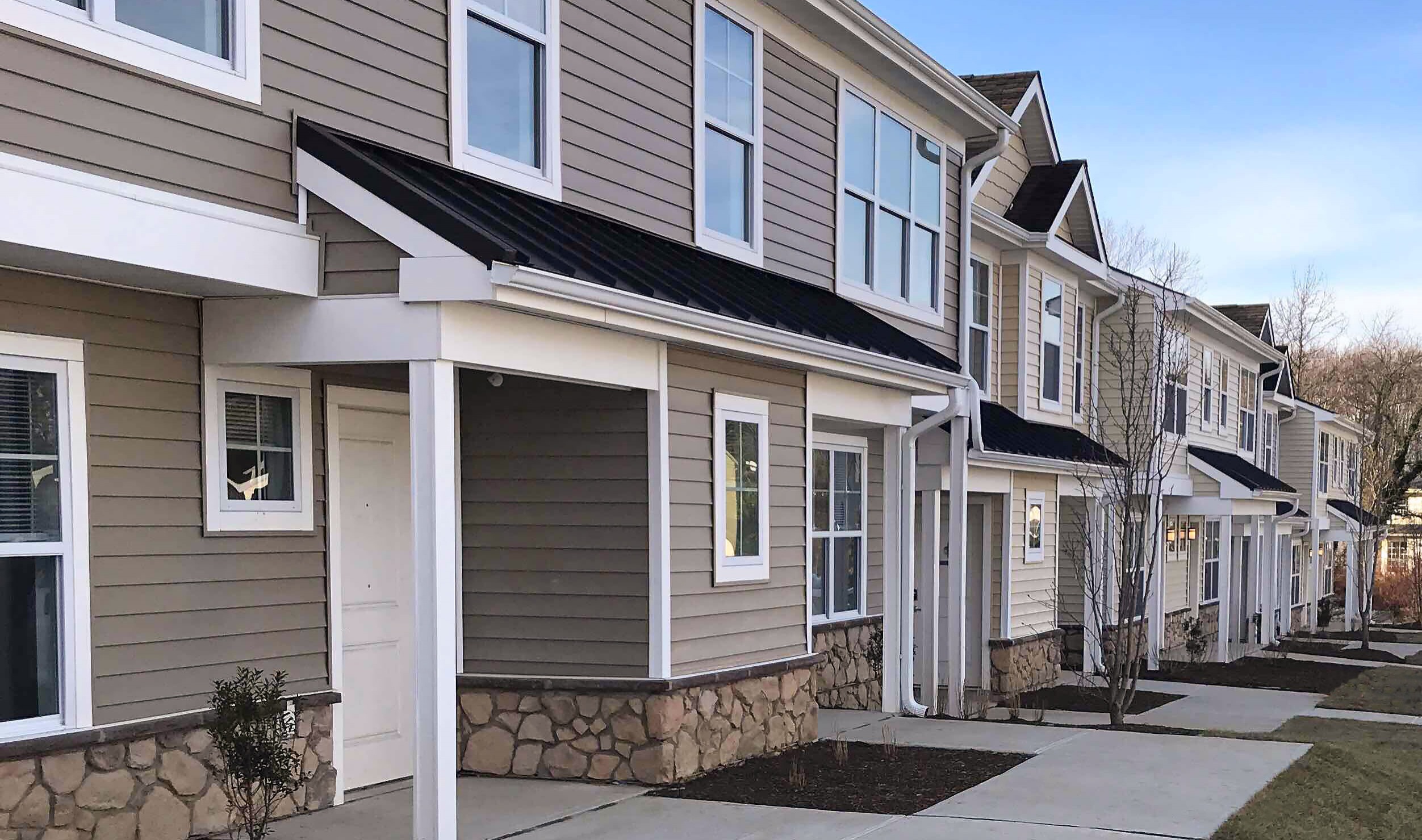 Berlin, MD – March 14, 2022 – Ingerman and Milford Housing Development Corporation welcome the first tenants to The Willows at Berlin this month. The community once known as Wolfe Terrace Apartments, originally built in 1979, has been undergoing a massive renovation and expansion that will be fully completed this summer.
Acquired by Ingerman, an award-winning multifamily builder and manager specializing in high-quality affordable housing, the community was renamed The Willows at Berlin, under their affordable family housing line. The project is being co-developed by Milford Housing Development Corporation, a value-driven, nonprofit, affordable housing developer that has been active regionally since 1974. The Willows at Berlin features 65 apartment rentals consisting of 31 renovated and 34 newly built homes spread across 8 two-story buildings on a five-acre site in Berlin, Worcester County, Maryland.
The new community consists of a mix of one-, two-, and three-bedroom rentals with various floorplan layouts to accommodate a wide range of household sizes and budgets. All apartments have private entrances and boast a host of amenities such as modern, fully-equipped kitchens with premium appliance packages, plank flooring, walk-in closets, energy efficient appliances and finishes, and more. The community is pet friendly, has plenty of off-street parking, a playground, recreation areas, fitness center, resident lounge and offers resident service programs.
Additionally, the community will obtain National Green Building Standards certification. Maryland DHCD awarded the project the maximum amount of points for meeting its criteria for Green Features, Energy and Water Conservation and Sustainability, Project Durability and Enhancements.
The Willows at Berlin is just eight miles away from Ocean City and a short distance to many other bays and beaches along the Maryland and Delaware shorelines. Also, the site offers convenient access to two major highways, Routes 113 and 50, and is in close proximity to desirable Downtown Berlin and everything the town has to offer; from dining and retail establishments to academic and recreation facilities.
Downtown Berlin has been widely recognized around the US for its historic charm, shopping experience, and art culture. Designated as an "Arts and Entertainment District," Berlin has grown into a popular destination for tourists who are also visiting the Eastern Shore and Ocean City. Berlin is a thriving and diverse community that has earned them the reputation of being "One of Most Charming Towns in America" by Oprah Magazine. The town itself and several structures are part of the National Register of Historic Places dating all the way back to the Federal, Victorian period, and 20th Century.
The Willows at Berlin is currently leasing up and accepting applications for a limited inventory of remaining rentals. The leasing office is inside teh community building at The Willows at Berlin, located at 312 Maple Ave, Berlin, MD 21811. For more information and to download an application from home, you can visit willowsatberlin.com or call the office at (410) 231-7228.
Stream drone footage of the construction progress here!
***
About Ingerman
For more than three decades, Ingerman has been developing, building and managing award-winning multi-family communities throughout the Mid-Atlantic region. Founded in 1988, the Company has developed 95 communities consisting of more than 8,000 residential units with total development costs in excess of $1.4 billion. The Company's seasoned team of real estate and construction professionals utilizes state-of-the-art architectural design, cutting-edge, environmentally conscious construction and an array of modern amenities in the development of each community. Through a commitment to responsible development practices, Ingerman works to enhance the sustainability of its communities with several green initiatives. www.ingerman.com