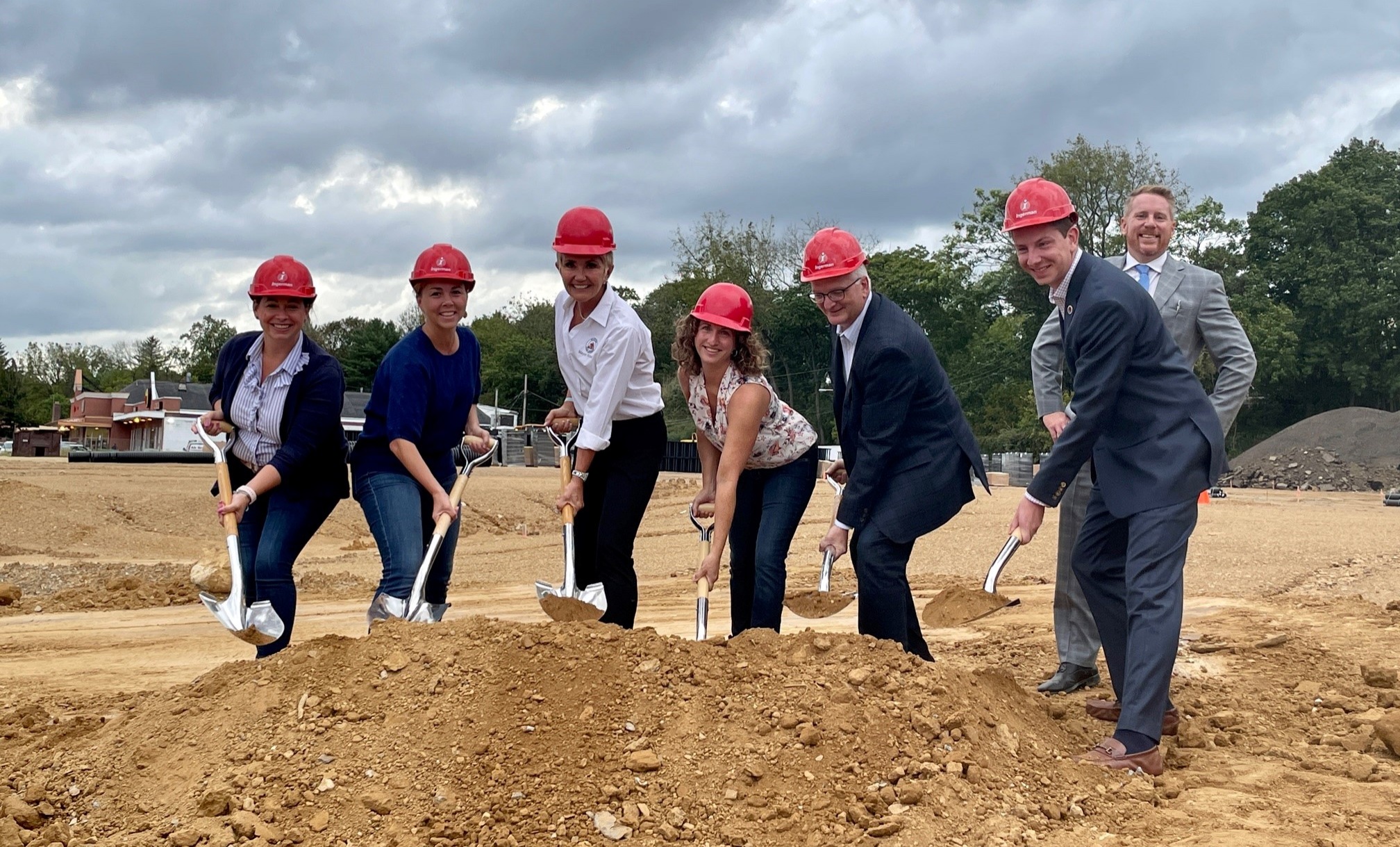 Clinton, NJ – September 23, 2021 – Ingerman was joined by Mayor Janice Kovach and Town of Clinton officials to celebrate the groundbreaking of a new mixed-use community with both rental homes and retail space, located at the former A&P site located on Old Rt-22 in the Town of Clinton, Hunterdon County, New Jersey.
When completed View 22 will be a 120-unit mixed-income family rental community offering a variety of of one-, two-, and three-bedroom floorplans with high ceilings, quartz countertops, stainless steel appliances, hardwood flooring, full-size washers and dryers, and premium finishes with energy efficient and smart home technology throughout.
The community will feature a host of amenities, including a resident lounge, clubhouse, game room, package concierge, yoga studio, fitness center with state-of-the-art equipment, and a pool with a locker room, hydration station, furnished patio and lounge area. The community will offer plenty of off-street parking along with electric car charging stations, will be pet friendly, and have full-time management and leasing services on-site.
Additionally, there will be 6,000 square feet of retail space on the premises. The "retail corridor" will offer space for up to five businesses to bring local goods and services to the residents of the community and the townspeople of Clinton. There will be designated parking spaces for these business owners and their customers as well.
View 22 is the redevelopment of the vacant A&P supermarket, located at the entryway into the Town of Clinton. View 22 is located on a major commercial corridor and is within walking distance of historic Center Street in the heart of downtown Clinton. View 22 is also near Clinton's highly esteemed schools, parks and recreational facilities. This location is well-connected to major highways and transit routes, giving future residents access to jobs, education, and services throughout Hunterdon County.
"Ingerman is thrilled to partner with the Town of Clinton on this ambitious redevelopment project. We are excited about the opportunity to create a mixed-use and mixed-income community in the heart of Clinton's picturesque downtown. Through our collaboration with the Town of Clinton, we were able to reposition a prominent but underutilized site on their commercial corridor in such a way that will create an attractive and marketable luxury rental community which also provides needed affordable housing and community scale retail opportunities," said Geoffery Long, Development Principal at Ingerman.
***
About Ingerman
For more than three decades, Ingerman has been developing, building and managing award-winning multi-family communities throughout the Mid-Atlantic region. Founded in 1988, the Company has developed 95 communities consisting of more than 7,500 residential units with total development costs in excess of $1.3 billion. The Company's seasoned team of real estate and construction professionals utilizes state-of-the-art architectural design, cutting-edge, environmentally conscious construction and an array of modern amenities in the development of each community. Through a commitment to responsible development practices, Ingerman works to enhance the sustainability of its communities with several green initiatives. www.ingerman.com