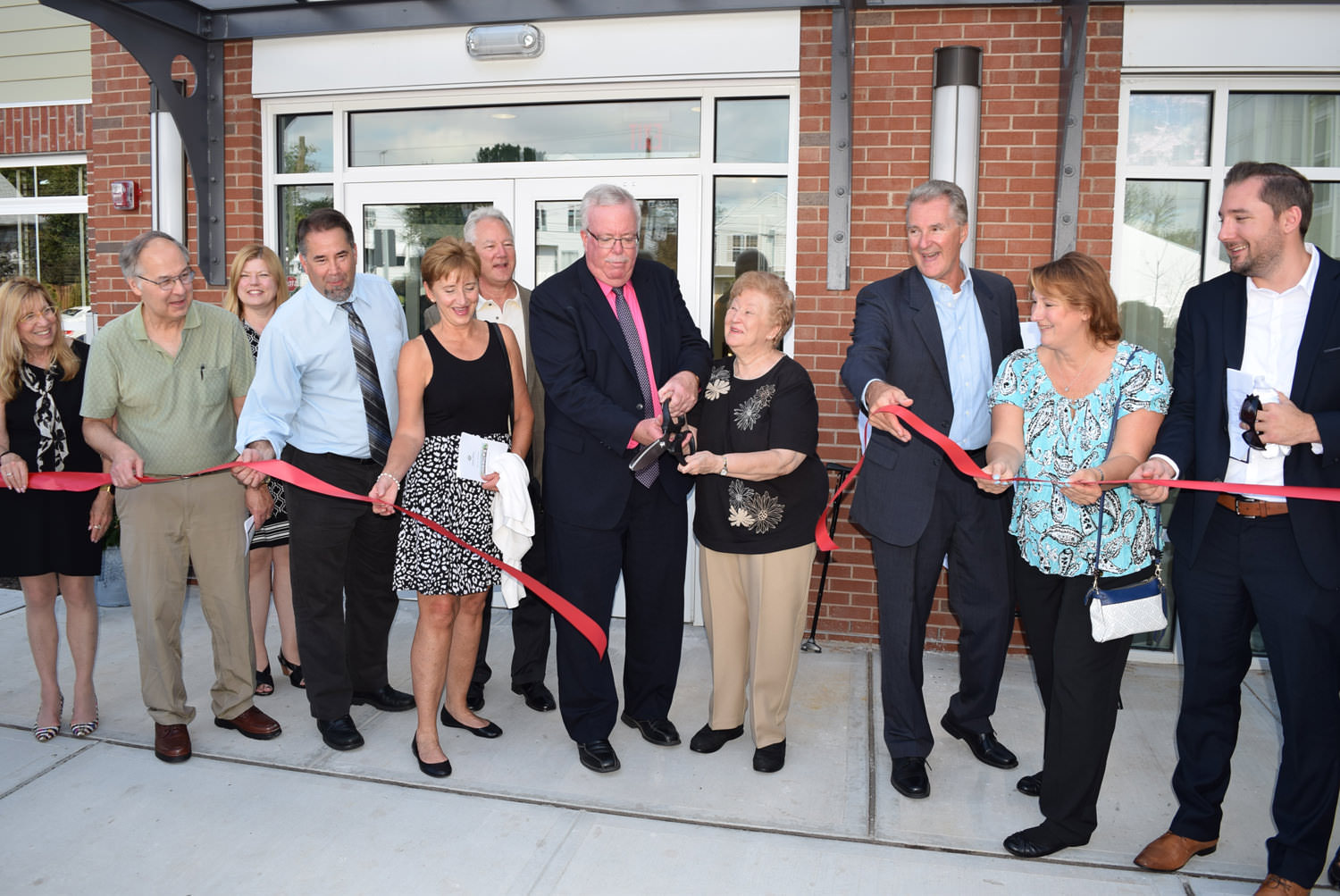 Woodbridge, NJ – September 28, 2017 – Mayor John E. McCormac and The Township of Woodbridge joined Ingerman, and BCM Affordable Housing to celebrate the grand opening of Dalina Manor, a Senior Affordable Housing Community located in the Hopelawn neighborhood of Woodbridge Township.
Dalina Manor is a 57-unit, three-story property featuring 48 one-bedrooms and nine two-bedrooms. The site offers a two-story lobby, community lounge with kitchen and outdoor patio, storage units on the ground floor at no additional charge to residents, and a fitness center. There is off-street parking and on-site management and supportive services. All common areas are fully handicap accessible. In partnership with the Hopelawn VFW, Dalina Manor will also be home to the new VFW offices.
The apartments feature open floorplan layouts with fully-equipped kitchens, hardwood flooring, mini-blinds, oversized windows, ceramic tile baths, video intercoms, full sized washers & dryers, and Energy Star appliances. Five percent of the rental are fully handicap accessible and all units are adaptable to accomidate the needs of the residents. In addition, Dalina Manor has five rentals designated for families and individuals who are homeless.
"The Dalina Manor grand opening and ribbon-cutting completes the transformation of the Hopelawn VFW building into a vibrant new community for our senior residents. It is important to note that the Hopelawn VFW will have a new home – right here at Dalina Manor so named in honor of Stephen J. "Pete" Dalina who dedicated his life to the people of Middlesex County and Woodbridge Township," Mayor John E. McCormac said. "Dalina Manor not only serves to increase neighboring residential property value, but also represents another milestone toward achieving our goal of ensuring that all of our senior residents have access to quality, affordable residential options. As we celebrate the opening of Dalina Manor, it is important to note that no taxpayer or municipal dollars were invested, as the entire project was funded through government grants, programs and private investment between the New Jersey Housing & Mortgage Finance Agency, BCM Affordable Housing, Ingerman, the Woodbridge Redevelopment Agency and the Woodbridge Affordable Housing Corporation."
About Ingerman
Founded by M. Brad Ingerman in 1988, Ingerman is a leading developer, builder and manager of award-winning multifamily communities throughout the Mid-Atlantic region. Since its inception, the company has been responsible for the development of more than 100 projects representing 8,400 units with total development costs exceeding $1.4 billion. Ingerman was founded on a guiding principal: to bring together a highly talented and motivated group of real estate professionals to create lasting, quality residential communities that are strategically financed and managed through persistent attention to detail. Today, that mission continues to drive our unwavering focus on delivering high-quality housing and superior services to all of our stakeholders — investors, community partners, and residents.