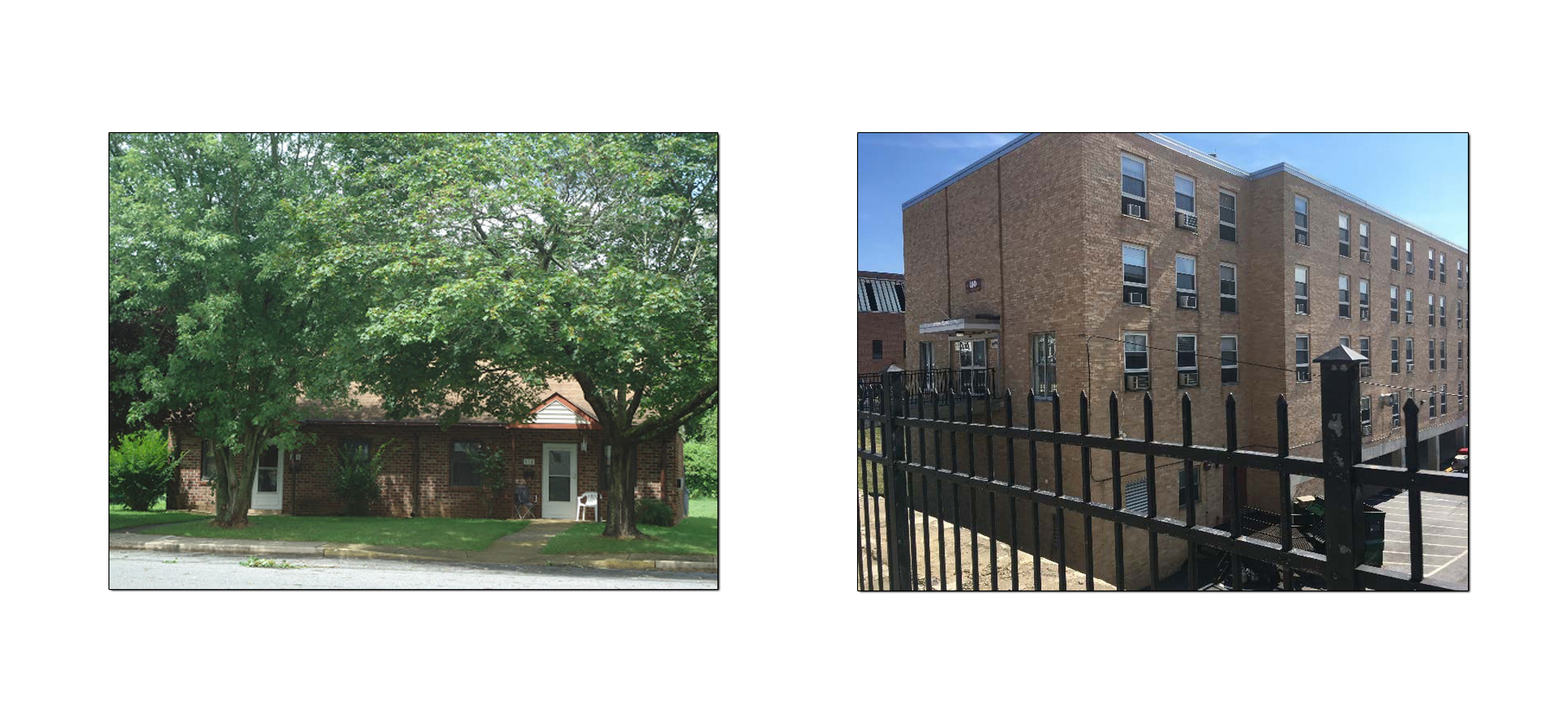 Elkton, MD – May 26, 2020 – Ingerman and The Elkton Housing Authority announce the conversion of two former public housing communities in Elkton, Cecil County, Maryland, through The U.S. Department of Housing and Urban Development's Rental Assistance Demonstration (RAD) program.
The Willows at Windsor and Birchwood at Main are two communities built in the 1970s, located in downtown Elkton, the seat of Cecil County and home to numerous retail and dining establishments, community centers, parks and schools. The Willows at Windsor is a 50-unit family community consisting 25 duplex buildings containing 6 one-bedroom rentals, 18 two-bedrooms, 18 three-bedrooms, 6 four-bedrooms, and 2 five-bedrooms. Once redeveloped, the new site will offer modern apartments with new amenities including a community space with kitchen, on-site management office, a playground and designated parking.
Birchwood at Main is a 50-unit, five-story senior rental community originally constructed in 1973, and comprised of 30 studio apartments, 18 one-bedrooms, and 2 two-bedrooms. The renovations will include new amenities such as a laundry facility, resident lounge, and an outdoor seating area with a gazebo.
"We are thrilled to partner with The Elkton Housing Authority to preserve this much needed affordable housing. At Ingerman we strive to bring high-quality affordable rentals to the communities we serve, and this partnership will allow us to transform these communities while also preserving housing stock for residents of Elkton," stated David Holden, Development Principal at Ingerman. "We are grateful for our partners at The Elkton Housing Authority as well as all our funding contributors who support our vision for this project and the future of Elkton."
The total rehabilitation cost will be $21 million and will be financed through the Low-Income Housing Tax Credit (LIHTC) program and soft debt provided by Maryland's Department of Housing and Community Development through Rental Housing Works (RHW). As part of the RAD program, which was created to provide public housing authorities with a tool to preserve and improve former public housing properties, the public housing units will be converted to a mix of privately-owned housing with Project-Based Rental Assistance and RAD project-based vouchers. Post-conversion, all units will be reserved for qualified income-based individuals.
###
About Ingerman
Ingerman is a leading developer, builder and manager of award-winning multifamily communities throughout the Mid-Atlantic region. Since its inception, the company has been responsible for the development of more than 100 sites representing 9,000 units with total development costs exceeding $1.5 billion. Ingerman was founded on a guiding principal: to bring together a highly talented and motivated group of real estate professionals to create lasting, quality residential communities that are strategically financed and managed through persistent attention to detail. Today, that mission continues to drive our unwavering focus on delivering high-quality housing and superior services to all of our stakeholders — investors, community partners, and residents.
RAD Project Based Vouchers administered by the Housing Authority.