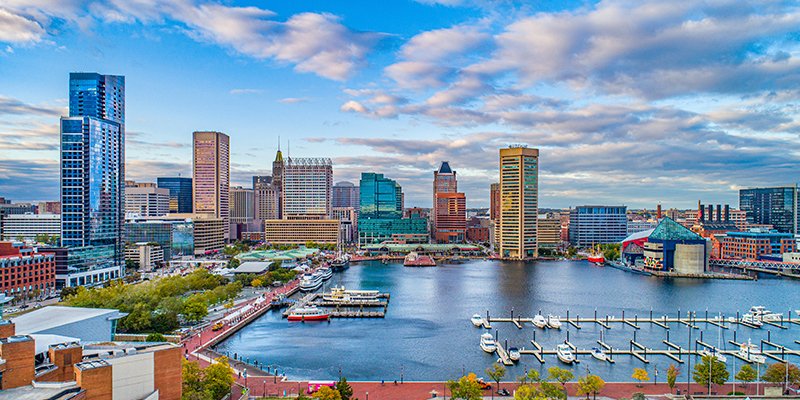 Ranking first in Worth.com's list of the most resilient cities in America, the City of Baltimore is popular for all the right reasons. Affectionally known as "Charm City," Baltimore wears the moniker with pride, offering an abundance of museums and attractions, elegant architecture, hidden gems for endless entertainment and feasting on a range of iconic foods, and serves as a hub for acclaimed academic institutions.
Getting Around Baltimore
The largest city in the state of Maryland, spanning over 92 miles, Baltimore is suitably located near metropolitan areas including Washington, D.C., Philadelphia, New York City, and Boston. The proximity to these cities as well as bordering states, paired with the abundance of major highways and impressive infrastructure, makes it easy for residents to commute for work, school, and recreation. Locals can navigate through the city by one of the many public transportation options including the Light Rail, Metro Subway, MARC Train, taxis, and buses. The city offers two airports, the BWI Airport and Dulles International Airport, for your domestic and international travel needs.
Education, Arts & Entertainment
Several prestigious colleges are sprinkled throughout the Baltimore area. Perhaps the most widely known is Johns Hopkins University, a top-tier academic institution and the first research university in the nation. The university is known for its innovations in medical research and genetic engineering and is home to nine world-class academic divisions. The University of Maryland School of Medicine, the fifth oldest medical school in the nation and the first in the country to institute a residency training program is also situated in Baltimore. The university ranked 12th in "Best Medical Schools: Primary Care," and 34th in "Best Medical Schools: Research" by U.S. News and World Report.

Baltimore is home to a number of art schools, predominantly the Maryland Institute College of Art (MICA), which Collegefactual.com ranks in the top 5% of the best schools for design majors in the nation. Additionally, U.S. News & World Report placed MICA's graduate programs in the top 10 of Master of Fine Arts programs in the nation. Speaking of art, stop by one of the city's three outstanding art museums: The Baltimore Museum of Art, the Walters Art Museum, and the American Visionary Art Museum; all offering a diverse range of displays from 19th-century, modern, and contemporary artwork to world renowned collections in a variety of mediums.
If museums aren't your thing, Baltimore is equally rich in sports history. Head over to the stadium that revolutionized ballpark construction, Camden Yards, to tour this classic stadium and glimpse its inner workings. Visit The Babe Ruth Birthplace and Museum which honors Baltimore's own George Herman "Babe" Ruth Jr and learn about the origins and history of one of the greatest baseball players of all time.

An Incredible Culinary Scene
Baltimore offers a range of culinary delights, making it a food lover's dream. The city is most famous for its crab houses and seafood restaurants where you can indulge in a range of fresh local fare from crabs and lobsters to oysters and shrimp, various fish dishes, and more. Want steak with your cake? There's no shortage of renowned steakhouses devoted to serving high quality beef. In the mood for Italian? Head over to the Little Italy neighborhood which boasts over twenty Italian restaurants. If you're unsure what you want, you can never go wrong with a diner. Satisfy your cravings any time at one of the city's many diners, with some open 24/7 so you don't have to worry about getting in before closing.
Inner Harbor Attractions
The Inner Harbor of Baltimore is a sightseeing mecca, offering numerous attractions. Visit the National Aquarium, ranked as one of the nation's top three aquariums, and meet over 20,000 animals representing more than 700 species. For a family-fun activity, head over to Ripley's Believe It or Not! to check out unique and unusual artifacts. The Maryland Science Museum makes for a fun day of learning about nature, engineering, and much more. Step aboard the four historic ships docked in the Inner Harbor, including the USS Constellation, the U.S. Navy's last sail-only warship; the Lightship Chesapeake, a U.S. Coast Guard lightship from the 1930s; the USS Torsk, a submarine used by the Navy in WWII; and the USCGC Taney, the last warship floating that fought in the attack on Pearl Harbor. There is so much to do at the Inner Harbor that you can be a tourist every day.

From its highly ranked academic institutions to its broad scope of entertainment options, its inviting mix of modern attractions to its impressive food scene, Baltimore makes for the perfect spot to call home.

Discover Baltimore's Newest Charm: Greenmount & Chase
If you are looking for a community that embodies the "Charm City" culture, Ingerman invites you to explore its new affordable family rental community, Greenmount & Chase, located in the quaint and revitalized neighborhood of Johnston Square in East Baltimore.
The 60-unit family rental community just began leasing its spacious 1, 2, and 3-bedroom apartments complete with fully-equipped kitchens, energy-efficient appliances and finishes, hardwood floors, central air, and large closets. Residents benefit from on-site management offices, a supportive service programs, laundry facilities, a community lounge, a fitness center, and a playground.
In addition to its wonderful features, Greenmount & Chase sits less than two miles away from the Inner Harbor and offers a location near shopping, dining, and recreation, as well as universities and esteemed medical centers; most notably The Johns Hopkins University School of Medicine. Residents can take advantage of easy access to public transportation and major highways to get to your points of interest.
Experience the best of Baltimore living and enjoy state-of-the-art amenities and features at Greenmount & Chase. Visit www.greenmountandchase.com or contact the leasing office at (410) 801-9384 to schedule a tour and learn more about what our charming new community has to offer.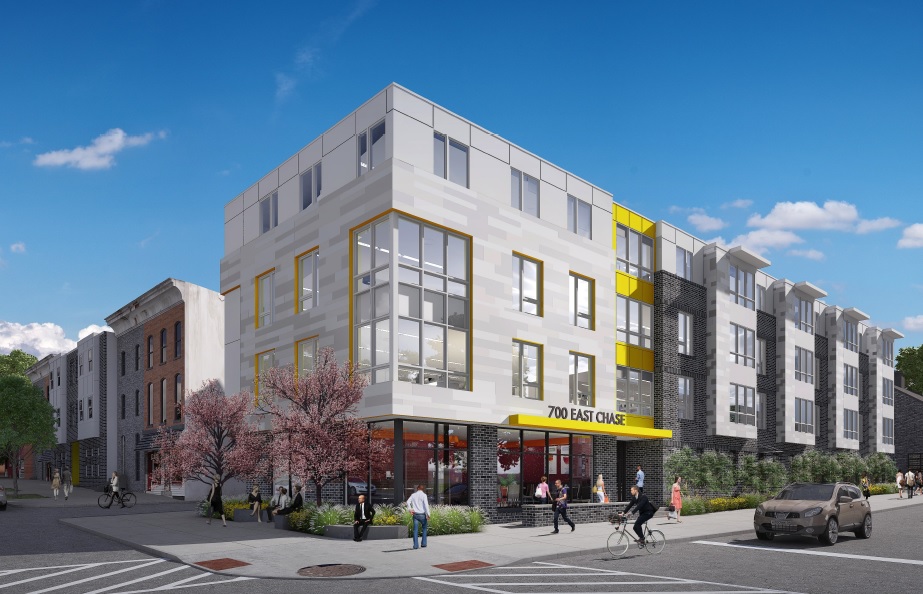 ###

About Ingerman
Ingerman is a leading developer, builder, and manager of award-winning multifamily communities throughout the Mid-Atlantic region. Since its inception, the company has been responsible for the development of more than 100 sites representing 9,000 units with total development costs exceeding $1.5 billion. Ingerman was founded on a guiding principle: to bring together a highly talented and motivated group of real estate professionals to create lasting, quality residential communities that are strategically financed and managed through persistent attention to detail. Today, that mission continues to drive our unwavering focus on delivering high-quality housing and superior services to all of our stakeholders — investors, community partners, and residents.